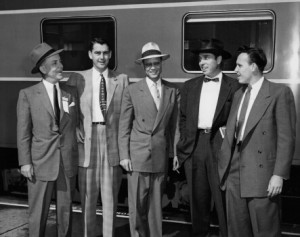 Change is inevitable, except from a vending machine- or so the saying goes. But the more things change the more they stay the same. It's a matter of perspective. When I was a child my father worked for IBM. They had a dress code that was more like a uniform. It included a blue pinstripe suit, white shirt, and wingtip shoes. IBM was a post war company that besides revolutionizing the PC industry- developed some innovative HR practices in their day. They no longer have the strict dress code. They still have one, albeit arguably it's just different. Today's trends in learning are centered around social learning and media, web 2.0 technologies, the latest and greatest Learning Management Systems (LMSs) and authoring tools… But at the core of the conversation remains employee development, albeit arguably it's just different. There remains the need for the application of sound instructional design and use of adult learning principles. Everything else is just the suit we wrap it in. In past years we wrapped training in the more formal blue pin stripe suit and wingtips. It was defined, it was a more formal event and we accessorized it accordingly. Today's learner arrives with different expectations shaped by an upbringing influenced by the internet, mobile technology, Facebook, Wikipedia, and a host of other technologies that have accelerated the speed of business. They expect everything quicker and are far better at multitasking. So as professionals we have to speak to their needs and strengths.
Over the last two decades training has migrated from a formal classroom environment to elearning. There are two big causes for this; First is cost, I can develop an elearning course once and deliver it to thousands. Classroom training and its associated costs like travel, a physical venue, and room capacity is much more expensive to deliver to thousands. Then, when you factor in the remote workers formal training becomes prohibitively expensive to implement.
Regardless of the training methodology you predominantly use, your employees do train each other. They also learn from others in the industry, they learn and improve upon their jobs all the time.
In a recent post from CMS Wire, Deb Lavoy pointed out:
"Social Business" is not about technology, or about "corporate culture." It is a sociopolitical historical shift that is bigger, broader and much more fascinating.
Social Business is not about technology, or corporate culture…it's about people doing what comes naturally to them. Learning from one another, and teaching one another. That's how humans are wired to pass on information.

-Steven Hornak
Steven is a co-founder and Managing Member of Collabor8 Learning, LLC, an instructional design and performance management consultancy. His firm collaborates with organizations to enhance the way they develop their people. To learn more about Collabor8 Learning, click here.
Steven can be reached at 305-791-1764 , steve@collabor8learning.com or via Twitter @smhornak.-